Restorative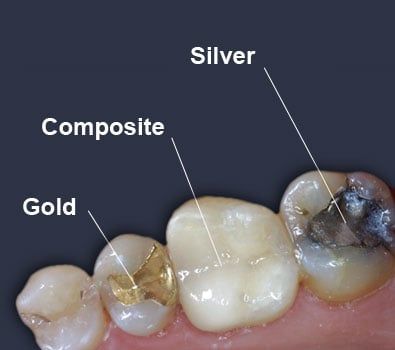 When a cavity needs to be filled, there are four choices in the filling material:

The most common is a composite filling, this is a natural tooth colored filling and bonds to the tooth for extra strength. There are also gold and silver fillings. Silver fillings are inexpensive and strong while gold fillings may look nicer and provide a better fit. The final option is a porcelain filling, also called an inlay, which is the most durable of fillings and is also the color of your natural teeth.

Ask Dr. Guidi, a cosmetic and restorative dentist in Sacramento, which filling would be best for you.
An inlay or onlay is a method of repairing a tooth that is somewhere between a filling and a crown. They are used when the tooth is unable to support a filling, but is not damaged to the point that it needs a crown. An inlay is much like a filling but is inserted into the ridges (cusps) of the chewing surface. An onlay is a little more extensive than an inlay and covers multiple cusps of the tooth. Inlays and onlays are commonly made with ceramic or composite materials but can also be made of gold. They are very durable and can last a long time depending on the material used and how well the patient takes care of them with regular brushing, flossing and visits to the dentist.
A crown is sometimes termed a "cap" or "jacket." A crown will restore a large filling or a cracked tooth to its original size, shape and tooth color. A crown may be recommended after root canal therapy has been completed, as the tooth tends to become brittle and is more likely to fracture. A crown can strengthen and protect the remaining tooth structure and improves the appearance of your teeth. With the advances in technology, we now have the ability to make ceramic crowns with no metal.
To place a crown, your dentist must reduce 1-2 mm of the tooth to make room for it. Your dentist will then use a piece of thread or cord or use a laser to push the gum down around the tooth, to take an impression of the tooth. The impressions are sent to the lab where the crown is made. During that time, you will have a temporary crown. These crowns are usually made of plastic and are made in your dentist's office on the day of your visit. They are not meant to last. If a temporary crown is left in the mouth, the cement eventually washes out, and the tooth can decay. At a second visit, your dentist will remove the temporary crown and test the permanent one. Sometimes crowns need additional polishing, glaze or some other adjustment before they are placed. Once the crown is ready, it's cemented to your tooth.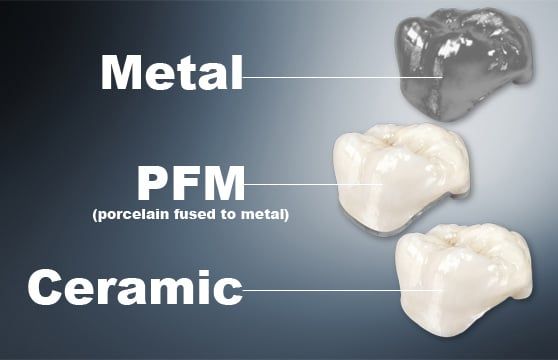 With today's advances in dentistry, there are several options when choosing a type of crown. The most common crown utilized in dentistry is referred to as a PFM or porcelain-fused to metal crown. For those that have sensitivities to metals or are worried about aesthetics, there are all porcelain crowns or crowns that are composed of a material called composite. There have been several advances in all porcelain crowns and some labs are now utilizing zirconia which is much stronger than a typical porcelain crown. Also, they still are making all metal crowns, which are typically gold, and are usually used on a molar or a back tooth. Of course all of these different options vary in durability, appearance and cost. Please contact our office for any further questions. We would be more than happy to find the crown that is right for you and your situation.
If your smile is in need of a makeover, crowns can provide predictable results. Crowns can give an unattractive tooth back its beautiful shape and color. For smaller or worn down teeth, a crown can restore the natural size of the old tooth. A crown can replace either part of or the tooth's entire structure. For procedures requiring only the areas visible from the outside, a veneer may be an alternative option.
A bridge may be used to replace a single tooth. A bridge consists of both a false tooth, called a pontic and the anchors (abutment crowns) that support the pontic. The entire structure spans the space vacated by the missing tooth.
Neighboring tooth structure is removed, shaping them to receive an anchor crown. An impression is then taken and sent to a dental lab where they fabricate the bridge.
The structure part of the bridge is created with a strong metal alloy that can handle the anticipated stresses.
Tooth-like porcelain is then fused to the structure. Once the bridge is tested for a correct fit, the anchor crowns are cemented to the neighboring teeth.