dentures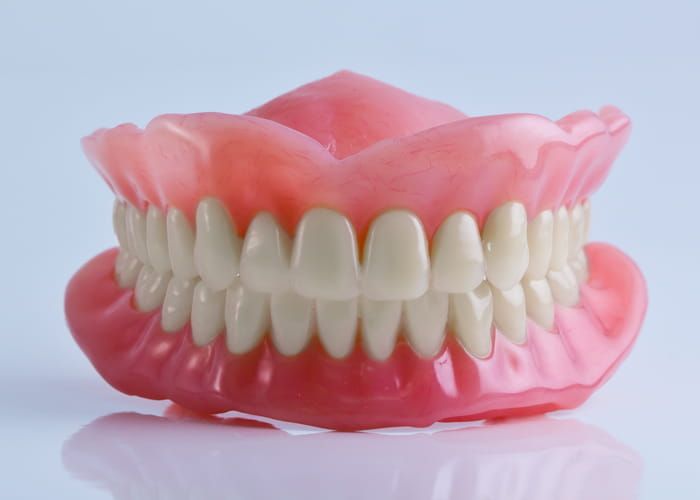 It is sometimes difficult to get used to your newly placed dentures. They can feel bulky, loose and awkward. In order to make your adjustment period smoother, here are a few guidelines to follow:

- Wear your dentures all the time after you first receive them.
- Never use adhesives on your dentures unless instructed to by your doctor.
- When you go to sleep, remember to always remove your dentures.
- Always brush your dentures after removal and store them in a bowl of water. You can soak your dentures in a denture cleaner as well, but only after you have brushed them.
- If you experience any sore spots, looseness or discomfort please let your doctor know so they can help.

Never try to adjust your dentures on your own, each individual will have a different adjustment period and it will take time for you to become comfortable with your new teeth.
Approximately 40% of your jawbone structure will be gone after wearing your dentures for just six months. You will begin to notice that your dentures aren't fitting the way they used to after a few years of wearing them as well. This is because over the years, the structure of your jawbone becomes unable to support your denture. The same thing happens even if you are wearing a partial denture.

Once the structure of your jawbone is gone, your options for tooth replacement become very limited. Dental implants can stop bone loss and provide your mouth with natural looking teeth before the jawbone structure is completely lost.
Partial Dentures are used to replace missing teeth. Partials have metal hooks that grab onto the neighboring teeth for support. Unfortunately, the hooks have a tendency to loosen up the teeth and partial dentures have the tendency to get loose and require multiple adjustments throughout the years. On the upper, there is a large piece of metal that goes across the roof of the mouth which can interfere with taste sensation and/or have food collected under it. Additionally, the partial plate can press into the gum tissue and cause sores. The partial dental plate must be taken in and out each day for cleaning. It is certainly not an ideal alternative.
At times, it is necessary for all teeth to be removed due to extensive periodontal disease and/or due to decay. An alternative for the replacement of all the teeth is a complete upper and/or lower denture. These dentures require support from your gum pad and many times require the use of dental adhesive. Throughout life, the dentures require constant adjustment and refitting and can cause the jaw bone to melt away making the dentures loose and once again requiring continuous adjustment.
An Immediate Denture is designed to be placed in the mouth immediately after the extraction of your natural teeth. An Immediate Denture eliminates the embarrassment of having to go without teeth, while the gums are healing.
An Immediate denture is designed to fit your mouth at the time impressions are taken; however, after a few months your gums will change drastically due to "gum resorption." It's possible that the denture will rub against the gums when it is first placed, which may be very sore until it can be adjusted. Gums shrink the most within the first year of having teeth extracted. Most patients will require relines within a few months, to restore the fit of their dentures. Expect that the first year of wearing dentures will also be the most difficult and costly.
Since an Immediate Denture covers over the surgical site and the tooth sockets, it helps keep that tender surgical area from becoming irritated, much as a bandage would. Do not remove your denture by yourself, even for just a few minutes, until your dentist tells you it's all right. The gum tissue underneath the denture has a tendency to swell. If you take the denture out for very long, you may never get it back in again.
An over denture fits on-top of natural teeth or dental implants. Many patients suffer with ill fitting and loose dentures that move or even fall out when speaking or eating. One way of solving this problem is to construct a dental plate that goes over and attaches to something underneath it. Keeping a few natural teeth or placing dental implants in the bone under the denture also helps keep the jaw bone healthy. This avoids much of the natural jaw bone loss often seen after teeth are removed. Traditional over dentures go over natural teeth. A denture can be made that goes over and attaches to one or both cuspids.

Implants supported over dentures fit on top of dental implants. A retainer bar or retention balls are placed on the implants and special attachments are inserted into the denture to grab onto these retention devices. A new method using mini implant dentures is becoming increasingly popular. Mini implants are very thin, long titanium implants that screw into the jaw bone. They can be placed and old dentures can often be retrofitted to the implant.